In 1897, Wilhelm Krische discovered that a new synthetic material could be made from the interaction of caesin (milk proteins) and formaldehyde. He combined the Greek words for milk and stone (gala and lithos) and named his new plastic Galalith. It revolutionized the button industry.
But also made in sheets, it could be cut and dyed into numerous flexible designs. Enter Oyonnax and August Bonaz. We have seen decorations within this shape in many Art Deco combs, but never like this.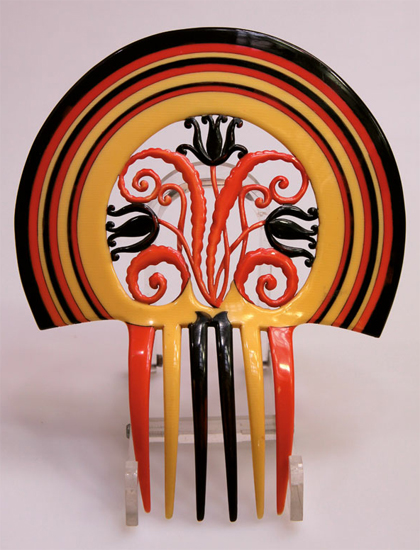 The ornate way Bonaz combined yellow, orange, and black make this comb one of an Art Deco masterpiece. Complex, stylized flowers and swirls that make a V in the middle only add to its uniqueness. It was auctioned in Zurich for 900 Euros in 1969. Since that time the comb appeared in exhibitions at the Museum Bellerive in Zurich (1991) and at the State Museum for Applied Art in Munich (1997).