Frances has been generous enough to share more of her treasures with us. The photographs were taken by her husband, Terry Wright.
This is a Romanov comb, the real thing. Faint now. It is tortoiseshell, with a gold, silver, and pearl heading and the mark of one of Faberge's most famous designers. The original box, below, has a ruby on it. Compared to the Russian crown jewels, this comb is intimate. I imagine one of Nicholas and Alexandra's daughters wearing it to tea.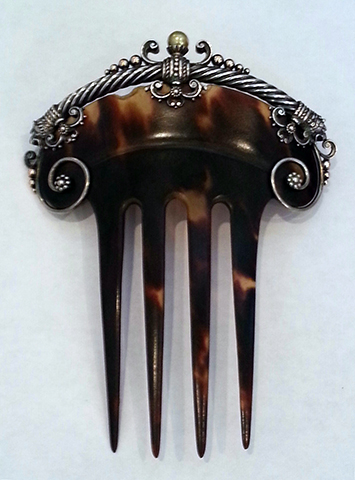 The octagonal shagreen box has acanthus-leaf scrolling. In the middle is the Romanov crest with a ruby in the center.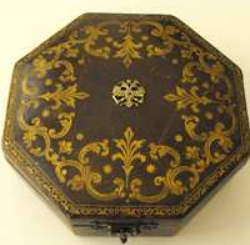 A garland of enameled daises with faux citrines is hinged to a horn comb in this example. This modestly sized comb was made for a chignon at the back of the head, c. 1860.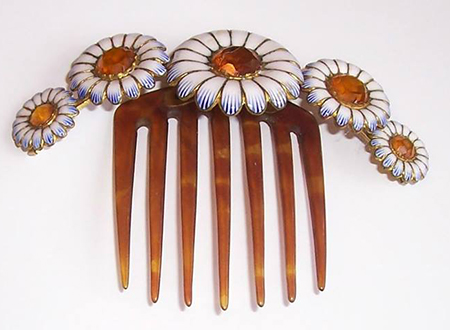 The metal tiara is hinged to a horn comb, painted with dark blue and green enamel, and decorated with turquoise cabochons in this Art Nouveau comb. c. 1900.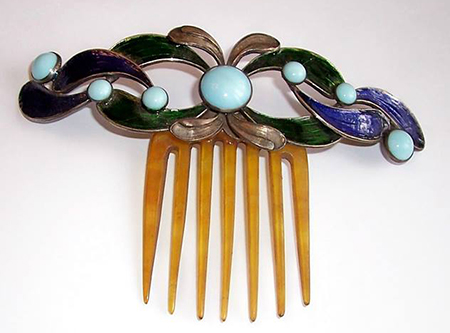 A curved gilt silver band surrounded by small crystals is attached to a metal structure, which was engineered to hold 10 crystal spheres in place. The decoration sits atop a tortoiseshell comb. The piece comes in its original box with the retailer's name, Cockburn and MacDonald, Edinburgh. c. 1860.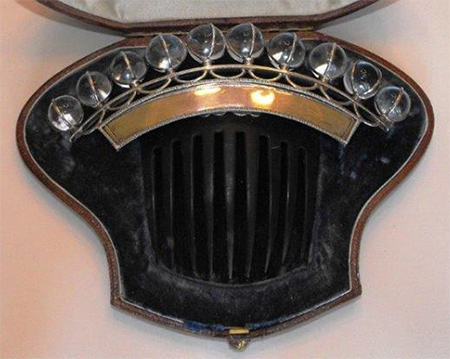 This is a beautiful Peigne d'Alger. A gilt silver tiara has openwork in the middle and holds three seed-pearl circles. Hanging on the bottom are two interlocking chains and three faux pearl pendants. The decoration is hinged to a horn comb. c. 1880.
This is a Huasheng (花胜), or floral hair ornament. It is worn in a chignon above the middle of the forehead. A lotus flower is the central subject. Stories about Huasheng go back to the Han Dynasty (206 BCE – 9 CE). The Book of Han, Vol 2, includes a biography of the Chinese poet Sima Xiangru, who wrote, "She lives in a cave, wearing Huasheng in her snow-white hair." On Hunan Day, women give Huasheng as gifts, as scholars climb to elevations to compose poems. This kingfisher comb was made in the 19th Century, Qing Dynasty. The only comb I have ever seen of this quality was in 2009.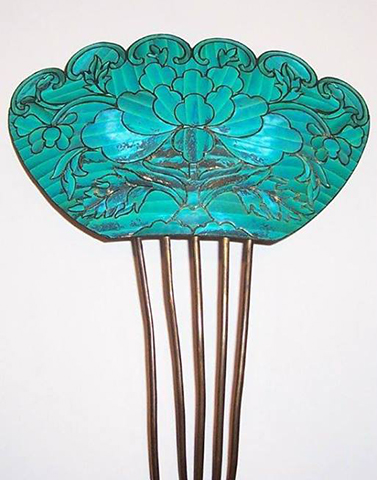 Thank you Frances and Terry for sharing these with us.
कंघी
For more scholarly research, please examine our Resource Library and these books: