The Parthian Empire existed in Ancient Persia from 247 BC – 224 AD. It is also called the Arsacid Empire after Arsaces I of Parthia, the Parni tribal leader who conquered what is now, modern-day Iran's northeast region. At its height, the Parthian Empire stretched from the Euphrates in south-eastern Turkey to eastern Iran. Because its territory included the Silk Road trade route between the Roman Empire and the Han Empire of China, the Empire became a center of world commerce.
It was succeeded by the Sassanid Empire (224-651 AD), which was considered to be equal in power to Rome. The Sassanids also invented the word, "Eran," which later became Iran. It was the last pre-Islamic Persian empire.
Its art was multicultural, encompassing Persian, Ancient Greek, and regional traditions. These two Parthian pieces, a hair comb and pin, come from the Reza-Abassi Museum in Iran. The jewels are carnelians.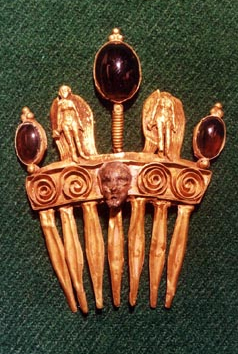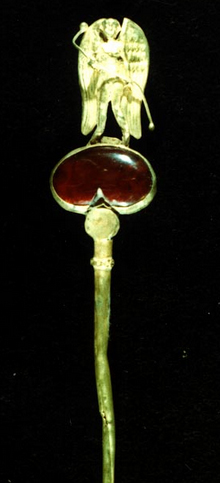 On this gold coin, you can see the Sassanid Emperor Shapur II wearing a crown.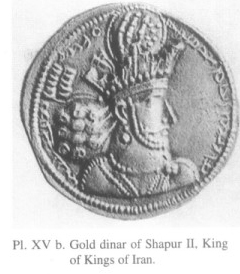 कंघी
For more scholarly research, please examine
The Art and Archaeology of Ancient Persia: New Light on the Parthian and Sasanian Empires
Forgotten Empire: The World of Ancient Persia
Decline and Fall of the Sasanian Empire: The Sasanian-Parthian Confederacy and the Arab Conquest of Iran