Jewelry by any other fitting shines as sweet.
A woman can buy almost any brooch or pendant and pin it on a bun, hat, or headband. We don't have to follow jewelers. We have to follow our imaginations and order fittings. For example, here is how you could attach a pendant to a black velvet headband: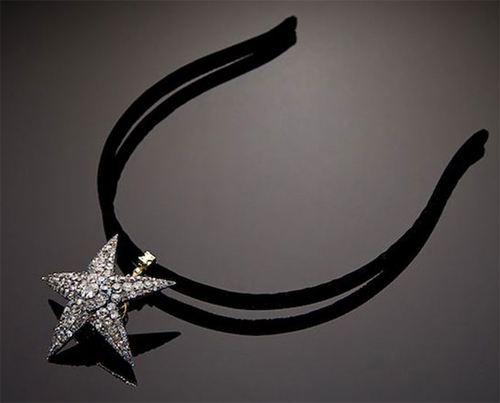 This modern pendant is made of translucent icy jadeite with diamonds set in white gold. Sotheby's estimates its value at $10,000. It depicts the Guan Yin, who is revered by East Asian Buddhists. In Sanskrit, she is known as the bodhisattva, or enlightened existence. She is associated with compassion and mercy and was named after Empress Shen Wuhua of the Chen Dynasty (557-589), whose Buddhist-nun name was Guan Yin.
For a night, I would substitute this pendant for the diamond star on the black velvet headband and be honored to wear it.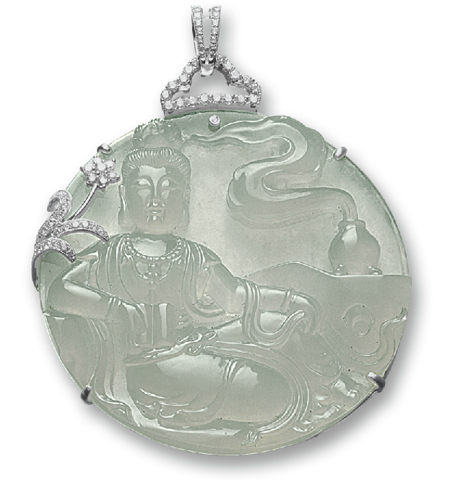 Here are some other items I would buy:
The yellow-sectioned bakelite ornament is sewn into the black straw hat. Whoever put this Cartier diamond-and-onyx, chain-link brooch on top has an eye. The pear-shaped diamond at the bottom of the brooch is 3.46 carats, D in color, and internally flawless. c. 1915. Price estimate: $190,000.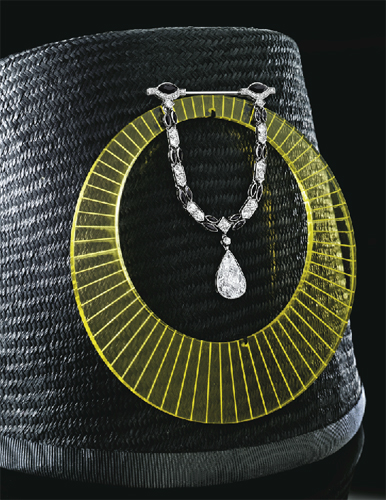 This 18K-gold leaf brooch / hair ornament is a modern, signed piece by Tsai An Ho. The lady bugs have tourmaline cabachons with moonstone and tsavorite-garnet eyes. Price estimate: $9000.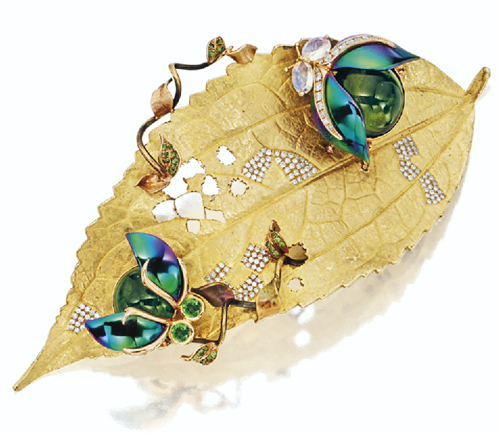 This Art Deco ornament was made by the House of Mauboussin in Paris, c. 1930. Price estimate: $33,000. The company was awarded the Grand Prix at the Exposition des Arts Décoratifs in the 1920's for its dedication to the Art Deco movement. Mauboussin organized a diamond exhibition in 1931, and this piece probably comes from that. It can be separated into two side clips for the hair because the company made multiple fittings. Mixing small baguettes and round diamonds of different sizes, the jeweler created depth and perfect balance.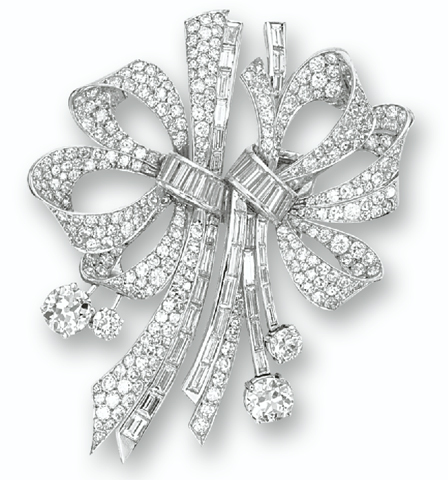 If we went to the opera in our Mauboussin, which purse would we bring? I would choose this one. Van Cleef & Arpels made it in 1923 out of seed pearls, and ornamented it with diamonds and large pear-shaped pearls. The interior is white leather. I must gush. This is the most beautiful purse I have ever seen. Price estimate: $300,000.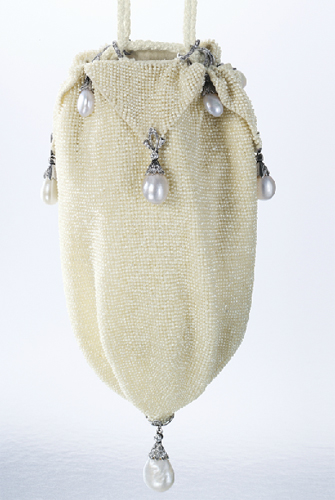 कंघी
It's very difficult to do scholarly research when your tongue is hanging out, and you are trying to breathe while thinking, "I want everything NOOOOOOOOOOOOOWWWWWWW!" However, these books have been added to our Resource Library for your torment, oh — information. :-)
var _gaq = _gaq || []; _gaq.push(['_setAccount', 'UA-26863979-1']); _gaq.push(['_trackPageview']);
(function() { var ga = document.createElement('script'); ga.type = 'text/javascript'; ga.async = true; ga.src = ('https:' == document.location.protocol ? 'https://ssl' : 'http://www') + '.google-analytics.com/ga.js'; var s = document.getElementsByTagName('script')[0]; s.parentNode.insertBefore(ga, s); })();