I guess our journey is taking us from the stunning frieze-like ivory carvings of Medieval France to the free-form celebration of nature in France at the turn of the century.
. These combs have been documented in Michael Koch, The Belle Epoque of French Jewellery 1850-1910.
Rene Lalique: Art-Nouveau horn, pink sapphire, and gold hair comb, c. 1902: Final Sale Price: $38,400. "The wide rectangular horn comb is surmounted by a curvaceous openwork floral design of gold leaves and stems, with cabochon pink sapphire berries, mounted in gold." I think the reason the pussy willow Lalique in an earlier post is $330,000 is because he made that one with his own hands. These might have been made for his company.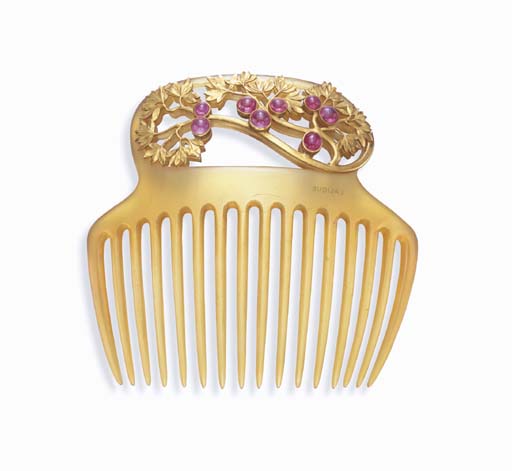 Georges Fouquet: mother-of-pearl and gold comb, probably from a design by Charles Desrosiers. However, in one book the maker is listed as Aristide-Lionel Le Couteux. Fouquet could have been the retailer, c. 1905: Final Sale Price: $33,600. "Designed as an iridescent pink, green and blue mother-of-pearl fan-shaped panel, enhanced by textured 18k gold organic rays with three baroque pearl accents, to the tortoiseshell comb, with French assay mark and maker's mark. Signed G. Fouquet."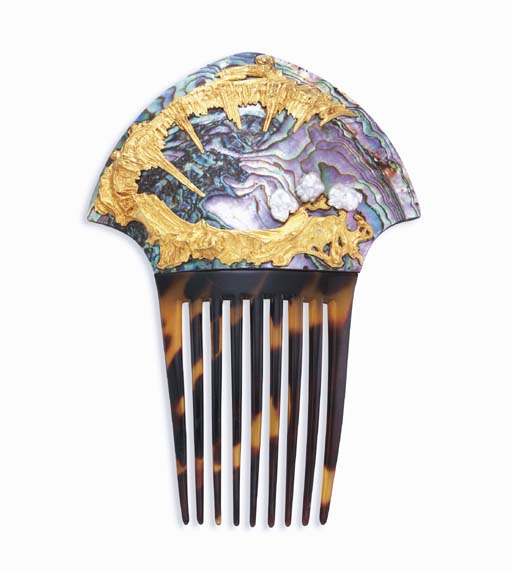 Rene Lalique: horn, topaz, diamond, and gold hair comb, c. 1902: Final Sale Price: $21,600 "Composed of a rectangular horn plaque, carved as four dragonflies with gold thoraxes, enhanced by a rose-cut diamond and gold bar, set with rectangular-cut brown topaz, to the horn comb in a Lalique beige suede fitted case. Signed Lalique for René Lalique."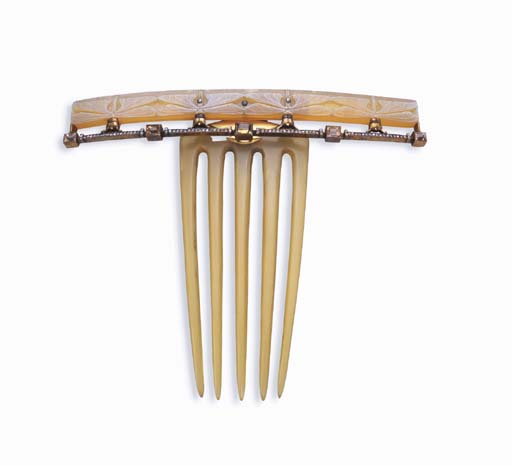 Charles Boutet de Monvel: Mother-of-pearl, peridot, and tortoiseshell comb, c. 1900: Final Sale Price: $24,000 "Composed of a mother-of-pearl oyster shell, centering upon a serpent set with peridots and green paste, with a cushion-cut citrine head and two cabochon ruby eyes, to the tortoiseshell comb, mounted in silver. Signed Boutet de Monvel for Charles Boutet de Monvel "