There have been some beautiful things listed recently, and I wanted to feature just a few of them. First is a lovely late Edo kushi whose Mt. Fuji landscape has great perspective and detail. The painting carries over the top edge of the comb. It is shell with gold maki-e, small applied gilt areas, and black lacquer lines. It was a Buy It Now for 435 UKP, and remained unsold.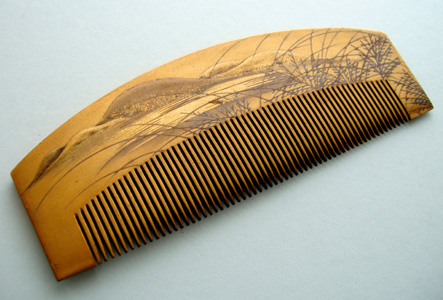 Next is an early Meiji tortoiseshell comb with beautiful raised gold carvings of a bird in a cherry blossom garden. It sold for $200 on October 18. Seller: webangelpb. Buyer: alain-t, a serious collector.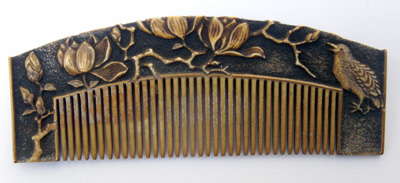 From 1850s England, a beautiful Georgian Sterling silver comb with a flower-filled urn at its crest sold for $155.50 on Oct 30. The seller was neatstuffdave.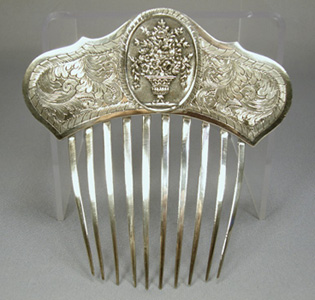 Last is a splendid Victorian Sterling hair comb with mythical figures in three cabachons. It has a maker's mark and sold for $272.59 on Nov. 1. Buyer: myrnatoo, another serious collector.