Hemp/Hibiscus? and Chimeras in Early Edo Japan

I am changing the text on this 18th-Century Edo comb about hemp because of an excellent, edifying comment by msctaiyang, a serious collector of Japanese hair combs. She said, "Regarding the hemp – it has been a medicinal herb in Chinese and Japanese medicine for centuries and to this day the treated seeds are used in many over the counter preparations. It is called Hua Ma Ren (ren means seed) and is used among other things to unblock the intestines. So hemp is really part of Japanese and Chinese culture, but in a much more utiltarian (and sensible) way than here in the States." The comb is shell with black lacquer and gold paint. Although after seeing the flowers on a Japanese Hibiscus, the artist might have meant those.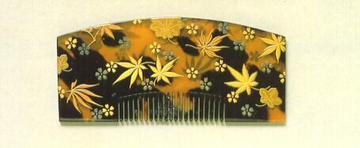 This wooden comb is 17th-Century Edo. You can tell by the size, artistic style, and subject. It's one idea on a large comb canvas is a chimera behind a folding screen.