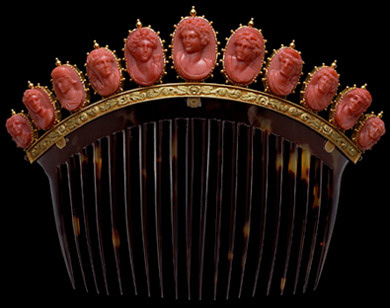 This tortoiseshell comb showcases 11 coral cameos in gold-beaded mounts, which rest on a gold base decorated with acanthus leaves, First half of the 19th Century.

Each cameo represents a divinity, or Bacchante, a priestess of the Greek God Bacchus. Bacchante cameos were popular with engravers in late-18th-Century Rome, who carved them in hardstone and shell. European travellers to Italy fell in love with them.

One hundred years later, Empress Josephine's love of coral combined with the material's ability to be cut into cameos might have inspired jewelers to make this design, a 19th-Century interpretation of the earlier Italian trend.

Empress Josephine loved coral's noble rich-red color, wearing it herself and giving coral jewelry as presents. She did much to make coral fashionable in France, reflecting the French passion for classical art. Indeed, coral jewelry was considered most effective when worn with dresses of white muslin, copying the look of a Greek statue.