I had to do it. :-) Sothebys had an auction of royal tiaras in Switzerland. I chose three tiaras and a coral parure to share with everyone. I can't pick which one is my favorite.

This emerald and diamond tiara, c. 1870, was formerly the property of a Belgian Princess. The octagonal, step-cut, and hexoganal emeralds at the top weigh 7.58, 7.26 and 8.05 carats, respectively. The two diamonds around the larger center emerald are 2.93 and 3.85 carats, respectively. The tiara is designed as series of bows entwined with foliate sprays. It sold for $341,213.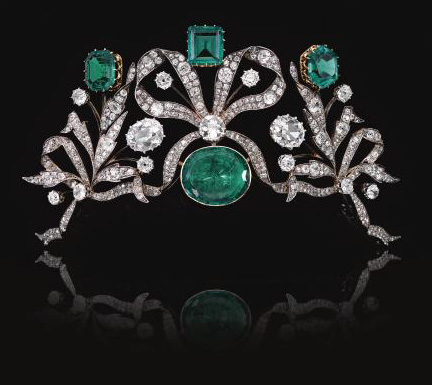 A German noble family in Westphalia owned this stunning emerald and diamond tiara, c. 1910. It was worn at an official dinner given by Kaiser Wilhelm II by an ancestor of the present owner and sold for $253,555.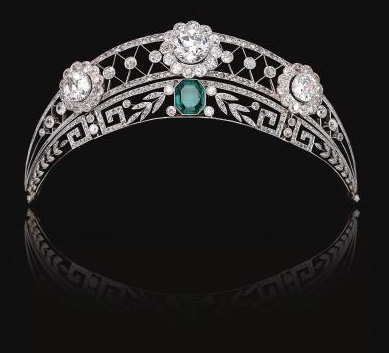 This aquamarine and diamond Belle Epoque tiara was part of the estate of Christian, Lady Hesketh. It has graduated aquamarine clusters interspersed with sprays of diamond myrtle leaves. Sale price: 97,504.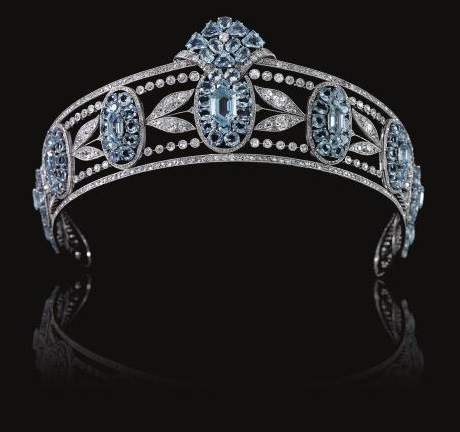 Finally, we have a coral parure, c. 1850. It has the necklace, earrings, pin, bracelet, and in the center is the hair ornament. It could have been worn either as a tiara or a barrette. It sold for $34,938.