Recently, two Japanese sets sold for $950 and $1100, respectively. They were both made of tortoiseshell in the Late Edo period. The first one has a leaf design on the kushi, while flowers rest in a field of grass on the kogai stick. It sold for $950 on July 31. You may refer to Item #330149236404.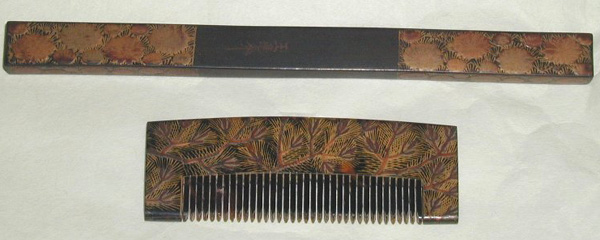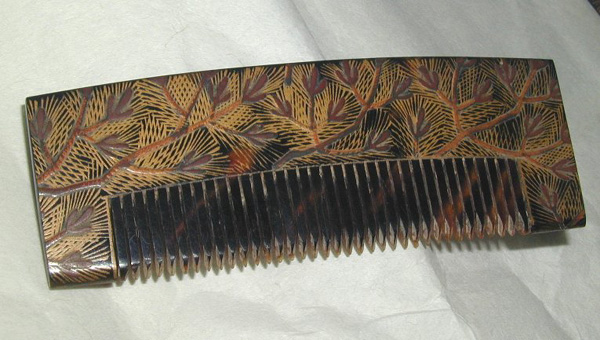 The second set had coral beads set into the kushi and kogai, as the gold maki-e decoration of flowers and leaves almost gives it the look of Imari porcelain. The kogai stick has beautiful gold and silver mounts that attach the oramental shell pieces to the stick itself. It sold for $1100 on August 2. You may refer to item #300135266043.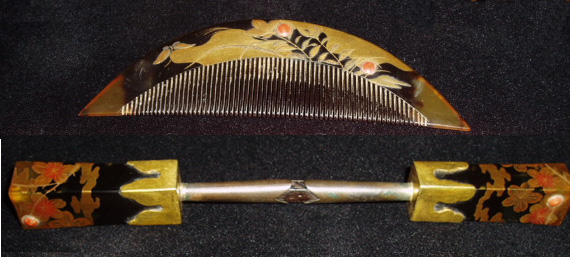 This beautiful Sterling silver comb with filigree leaves sold for $260 on July 30. I think it might be French, but I'm not sure. Comments welcome on this. I thought the design was distinctive and well balanced. You may refer to Item #160140008982.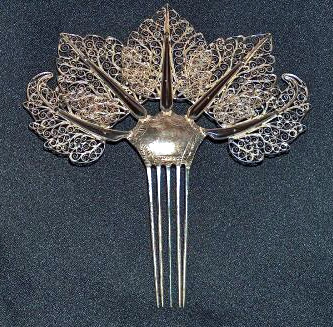 And finally today, I'll show a comb a friend gave me pictures of. The dealer who showed it to her wanted $1200, and she is still undecided. It's a beautiful Japanese Sterling silver, signed comb with a fish swimming in the water. Looking at the shape and size, I think it's Meiji, although the design — one idea, and a fish — harks back to the Edo period. Comments welcome on this.