I'm going to start with a Spanish silver crown of thorns, c. 1890, which was offered by the same dealer from whom I bought my tiara, but sorry to say I lost the auction, and I don't know if it sold. I am guessing the crown could have been worn on Good Friday, signifying the passion of Christ. Spanish Catholicism is dramatic and passionate, and I had never seen anything like this. I don't see this piece as attempting to be beautiful, but rather to communicate suffering. Comments welcome.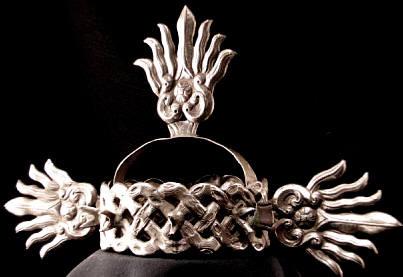 The dealer thought this early Edo masterpiece was c. 1860. I disagree. The size, the fact that there is only one picture, and look at the plot of this picture, and the detail. There was one idea on each side, completely different. Both pictures were works of art in themselves, the way it is signed. I'm going to venture a guess that it's c. 1720. Comments welcome by Japanese experts if you think I'm wrong. That it went for the ridiculous price of 75 GBP was probably because it was damaged. But for something that old, I guess if it survived in tact, it would be in a museum. Idiotically, I did not buy this.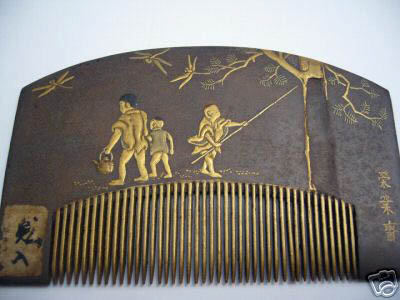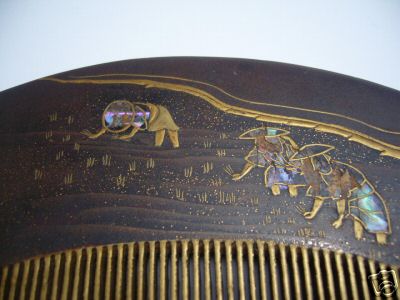 This beautiful Meiji set of pearl berries and grape leaves just sold for $355 on Feb 10.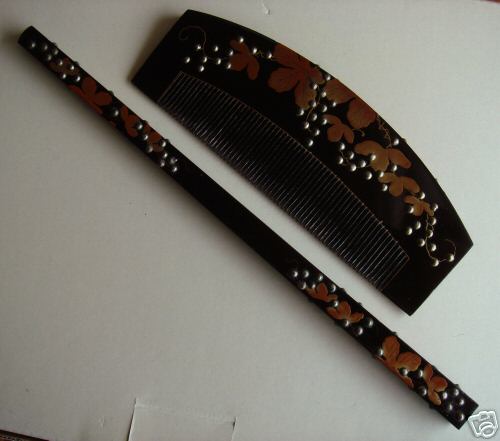 This gold makie kanzashi hair stick was beautiful. It sold for $255 on Jan 26.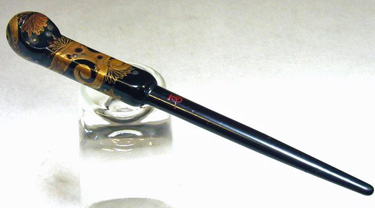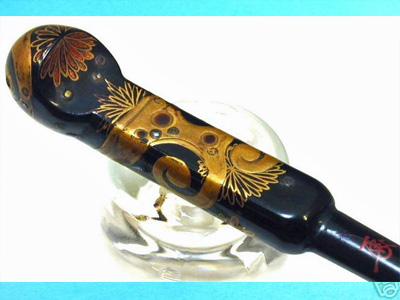 Here is a modern comb I liked. It is made of buffalo horn and signed by the artist Genryo. It is accent with mop and inlaid gold.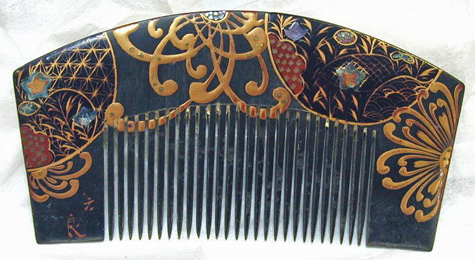 This late Edo tortoiseshell comb with coral beads, ivory and brass flowers decorating a brass top is beautiful, and sold for $355 on Jan 20.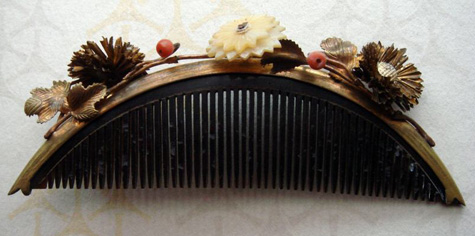 Finally, I'm going to feature a Chinese claw comb. I had a hairstick once with a claw and a blonde tortoiseshell ball that I sold to "best friend" Myrna who tells me things like I "there are products to get rid of the frizz Barbara," when she sees my pictures, lol, but the edge of this comb has the same claw art, which I think is gorgeous and very Chinese.