French Empire diadem on the traditional brass comb. There are some teeth missing, but 3 galleries of cut brass decorations surrounding two rows of coral beads make this a magnificent piece. It sold for $529.50 on March 3. Myrnatoo bought it. It is attached to two sets of metal combs bent inwards, so it can be truly worn as a tiara. Gorgeous.

This Japanese early Meiji ivory set with gold makie birds flying in the trees has its matching kogai stick. It's everything a collector wants: signed, perfect condition, rare material, exceptional artistry, age. The dealer wants $1600 for it. My offer of $1000 was turned down. It's too expensive in my view, but this would be a first-class addition to any collection.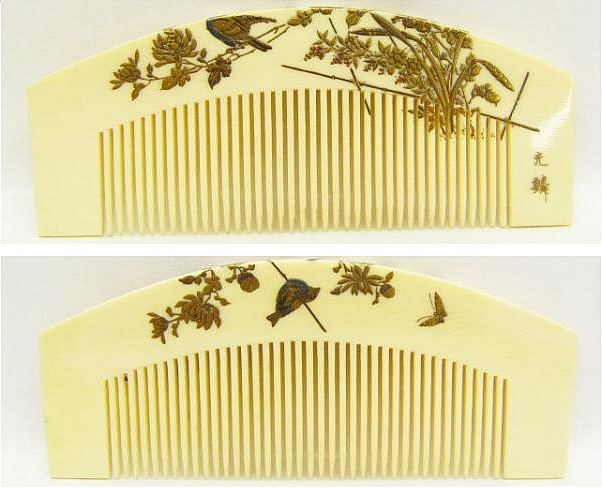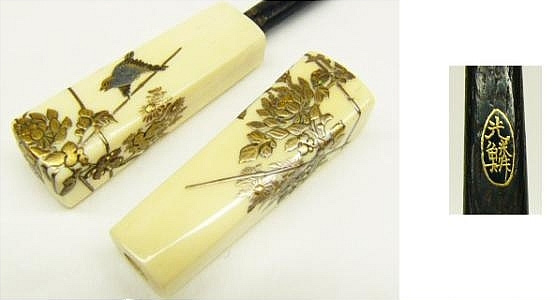 This beautiful Spanish mantilla-style comb is made of blonde tortoiseshell, and came from the Norma Hague collection. It sold for only $99. Great bargain! Beautiful, original decorative design.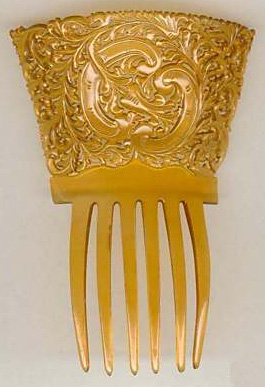 And last is this c. 1910 art nouveau horn comb with two 14K gold birds meeting on top, for which the dealer wants $800, but has not accepted the one offer that was made.