There are a couple of things on ebay, which haven't ended yet, so I can't put them on, but I will soon. However, I searched around and found some nice things. Here is a nice collection of Victorian combs, which is being sold individually by Antiques and Common Treasures on Ruby Lane.

I like the three tortoiseshell hairpins.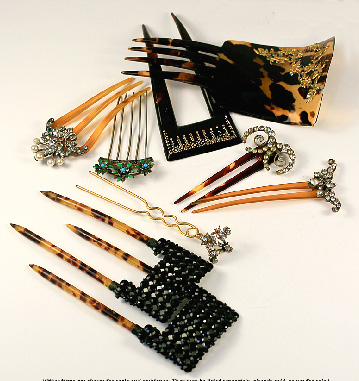 This is a totally gorgeous French Empire seed-pearl diadem on tortoiseshell, which you will notice is a bit curved up, so you can wear it as a tiara in the front of a bun on top of your head. It is in perfect condition, and selling for $695.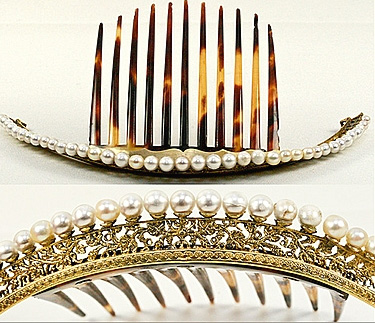 Something else I loved was a diadem comb top also from the French Empire period, which sold on ebay for $1027.50 on Dec. 29, 2008.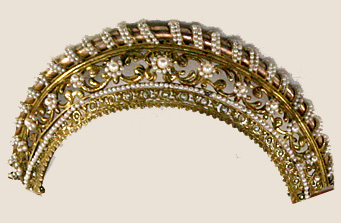 This Chinese-made ivory comb for the Victorian market is only selling for $145 on Ruby Lane. The decoration is three birds perched on a flower, and it's 6 1/2″ high and 3 1/4″ wide. I'd say this is a good buy.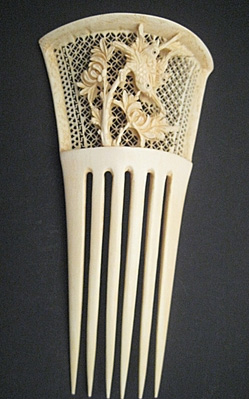 Finally, Christies is selling a set of two beautiful Belle Epoque shell hair pins with 212 diamonds between them, on platinum, c 1900. They will be sold on Feb. 9, est: $5,000 – $7,000.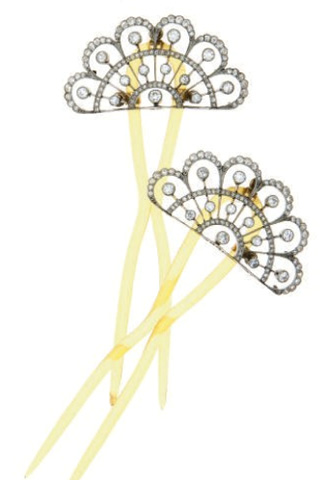 This Greek Ivory comb, c. 350 B.C., with a letter of authenticity, and a fabulously carved woman's face sold for $813 on Jan 20, 2009.