Janvier Quercia Hair Comb
Janvier Quercia was a French silversmith who worked c. 1900. This hair comb was part of a three-piece silver-gilt parure, which included a belt buckle and necklace. A woman emerging from leaves expressed Art Nouveau's philosophy of metamorphosis. The buckle was made from a metal die cast from a wax model. A reducing machine altered the size of the die to make the comb. As he was making jewelry, Quercia founded Abdullah, a company that made lighters, which was taken over by his son Marcel in 1948.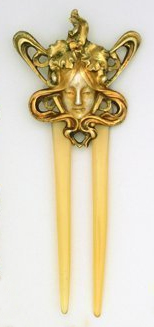 Quercia's hair pin design seems similar to my Elkington and Co. barrette. Elkington invented electroplating silver onto copper in the 1840's, and my piece was made in England, c. 1900.
कंघी
For more scholarly research, please examine