Paul-Gabriel Liénard was a Parisian Art Nouveau jeweler, who reached the top of his craft when he registered his own mark in 1905. As with Louis Aucoc, Liénard was well known for using pearl sprays. I have not found any documentation connecting Aucoc and Liénard except for these three combs. They were made from translucent horn and seed pearls, so light would show through, and the jeweled accents would keep them lightweight. In addition to philosophical influences, there was a practical purpose to these decisions. The combs would be easy to wear.
Liénard's example, with his maker's mark, sold at Christies for $21,600 in 2006.
Aucoc's comb is on sale at The Tadema Gallery for around $8000.
Both combs are superb expressions of the natural world's asymmetrical shapes.
Christie's estimated the value of this Aucoc hair pin at £3000 to £4000 in 2009.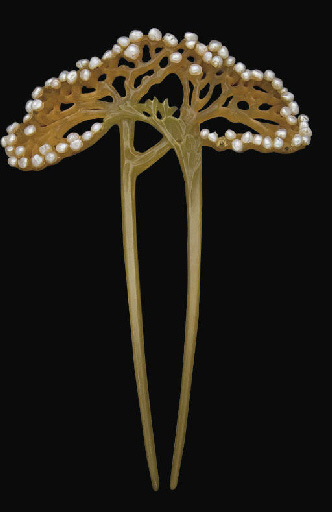 To prove how scholarship creates value, I recorded this sale on E-bay in 2007. Comments are welcome, but I believe these hair pins were made by Aucoc. They were damaged, as all the seed pearls were not present. However, the only identification was "French work, 1900." The dealer was, shall we say, homework-deficient? I remember this auction well, and when I saw the price, well, it was a lot like the recent auction we have all been talking about.
And just for jaw-dropping fun, I'll revisit this Liénard tiara, made of gold, horn, pearls, and diamonds, which sold for $60,000 at Christie's in 2009.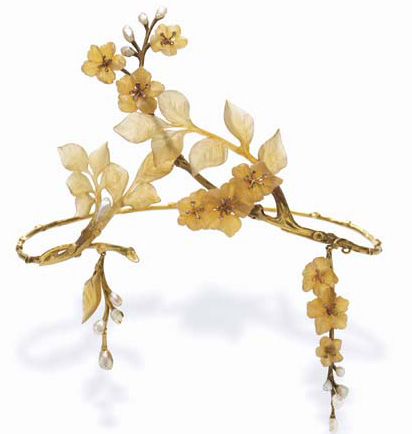 कंघी
For more scholarly research, please examine
The Comb: Its History and Development by Jen Cruse, page 35, which I'm proud to say is listed in the Tadema Gallery's provenance for the Louis Aucoc comb.