Lucien Gaillard (1861-1942) was a contemporary of René Lalique and achieved equal fame c. 1900, as Art Nouveau and Japonisme swept Paris. However, unlike Lalique, Gaillard's animals and insects were proportioned exactly. He did not elongate parts of his animals to express Symbolist philosophy. In his famous "Bluebird" comb, he observed the arch of birds' bodies as they dove in flight and made each bird a slightly different size. You may compare Lalique's landmark "Two Swallows with a Stalk of Oats" to Gaillard's "Bluebird," which sold at Christie's for $218,000 on Oct 21, 2009.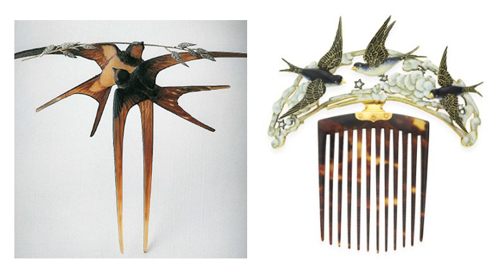 Gaillard also paid homage to the Japanese use of realistic proportions with cherry blossoms. An Edo artist painted this cherry tree in gold maki-e tortoiseshell comb: The Miriam Slater Collection.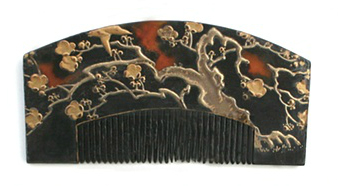 Gaillard carved his cherry blossoms out of horn, painted the tree bark, and depicted flower buds with pearls.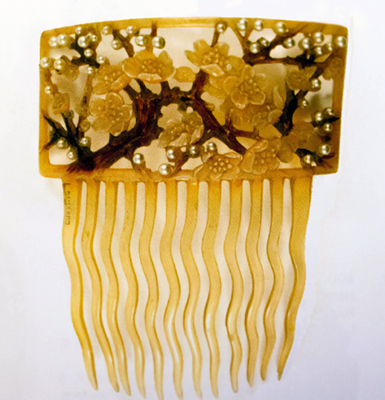 One of Gaillard's other masterpieces resides in the Rijksmuseum in Amsterdam. Two dragonflies fight over prey. They are asymmetrical, but the design is perfectly balanced. In addition, Gaillard mixes translucent stones, semi-translucent wings, and opaque bodies.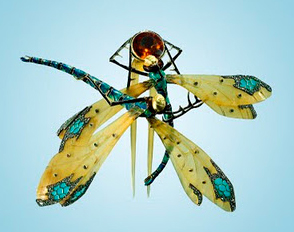 Here are some other combs from a 2004 catalogue by Millon & Associés:
A painted horn relief of mulberry branches supports blue-white glass flowers on each end of this comb.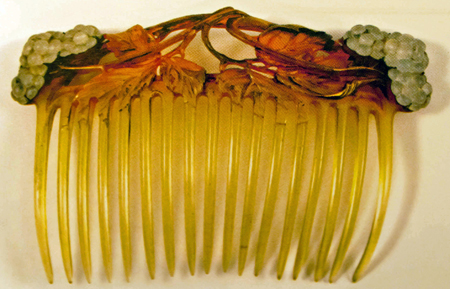 Gaillard spread an orchid and attached a silver ring to the inner petals. The ring sports two ladybugs and two pearls.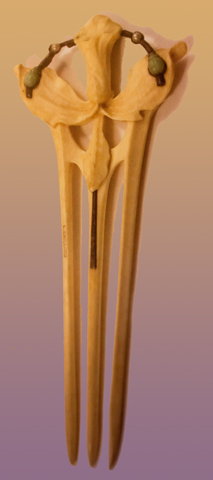 This horn comb's sculpted gold leaves hold a mother-of-pearl bud. Notice how the stem of the center leaf overlaps the middle tine of the comb.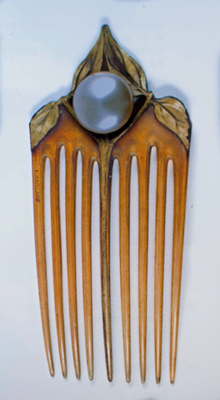 The Creative Museum also has two combs similar to the designs of Lucien Gaillard. One has clear horn leaves embellished with a paste-diamond spray and a green cabochon, and the other is a pair of ginko leaves. One ginko leaf is edged with paste diamonds, while the other has a lighter green cabachon.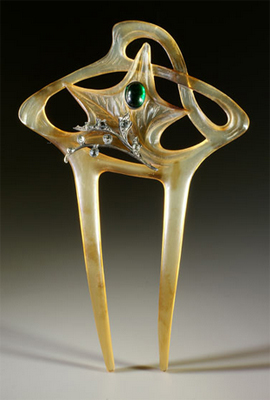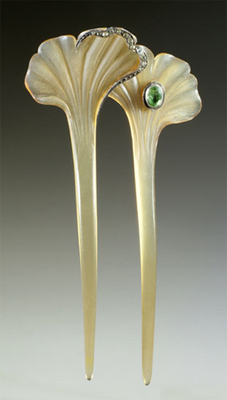 कंघी
For more scholarly research, please examine the books Christie's used, which have been added to our Resource Library. They are both by Alastair Duncan.