Carved out of clarified horn, two groups of three fern leaves make up the center, while two smaller sets taper off at the sides. An artist can say many things with one line. Lalique used a curved line of rose-cut diamonds mounted in gold. The beginning of the line forms the base of the diadem and continues to become center-fern stems. On top, the line branches off to form the side-fern stems. Off the base, two smaller diamond branches unite the smaller ferns. The piece, c. 1905, and sold at Christie's for $66,000 on Oct. 11, 2006.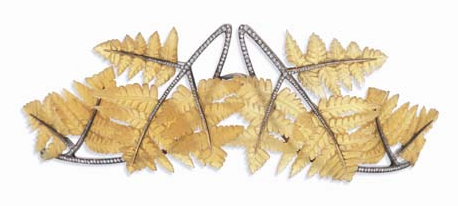 Its provenance can be found in Sigrid Barten, René Lalique: Schmuck und Object d'Art 1890-1910, Prestel Verlag, München, 1977, page 175, plate 31.
कंघी
For more scholarly research, please examine these books, which can be found in our Resource Library.