On Ebay recently, there were two interesting auctions that deserve to be compared. The first was for a real tortoiseshell Edo set, consisting of a beautiful comb, blonde with brown markings, and a kanzashi with an attaching ornament of a plover bird on a coral branch. You may refer to my post I Love Japan to see a plover bird kanzashi ornament that belonged to a Japanese prince. The one for sale on ebay was only one little plover bird on one little branch, but who cares. Are we Japanese princes? No. ;-) This set was the real deal.

On May 21, it went on sale for a starting price of $490. For me, that was fine, but $490 is a high starting price for a hair comb on ebay. There is so much going on that amidst the noise, it's very difficult for a seller to convince our audience that one piece is really worth $490 unless it has a name recognizable to Western buyers, like Tiffany, for example. Also, it's very difficult to tell the difference between real shell and celluloid from a picture. The set did not sell the first time. It was relisted at at $250 and finally sold for $294 on May 31. Great buy. You may refer to item #190116714443.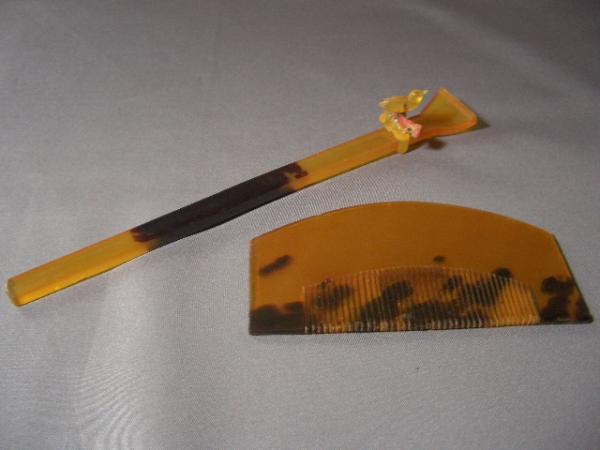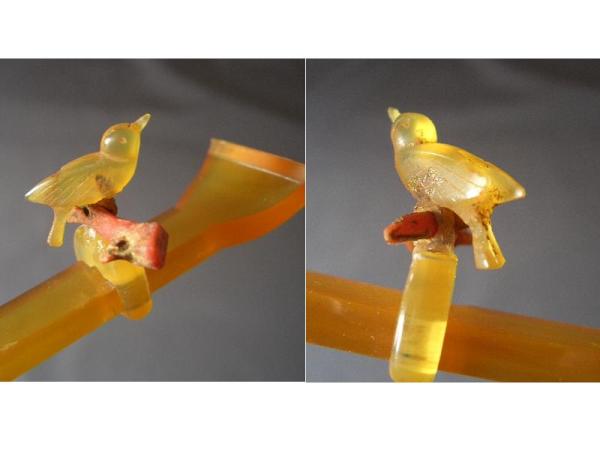 Meanwhile, another seller aquired a Japanese piece from the estate of a geisha. Her great grandchildren told the seller the kanzashi with two ornaments was Taisho and could be tortoiseshell. He repeated the story in his auction. At one point in the auction, the piece was at $522. My eyes widened when I saw this because this piece is one part of a celluloid Japanese wedding set. These sets were sold in Tokyo department stores in the 1940s. If anyone knows that they were made earlier, please let me know in the comments. The entire set goes for around $200 now.

I wrote to the seller. Nice man. My guess: the great grandchildren loved their family member and didn't know because at one time these sets were made in shell. But the story sold. Amid the noise, the story got the attention of our audience and caused a bidding frenzy that far outweighed the value of the piece. One of the frenzied bidders withdrew, leaving the auction at $9.99, and the piece finally sold for $102.50 on June 7 — within the range of sanity, since it did come from the great grandchildren of the woman who actually wore it. You may refer to Item #120127400313.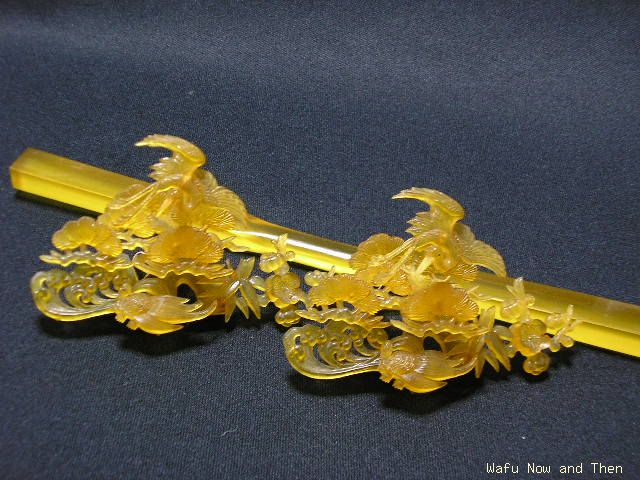 For reference, here is an example of a complete imitation shell wedding set.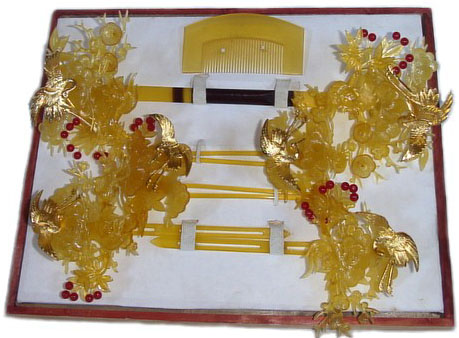 And here is the real thing. Source: a book of a famous Japanese comb collection, which is in a museum.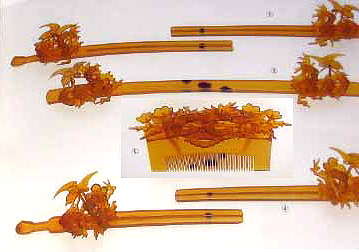 I think the "shell vs. celluloid in a picture" debate will go on forever, but authenticity is perhaps the most important feature of any antique purchase. Know your history, and good luck in your bidding! :-)