There have been some lovely things on ebay recently.

A wonderful 14K gold griffin on a silver base, attached to a tortoiseshell comb sold for $550 on Sept. 27. It has a diamond in its mouth, diamonds on the wings, and a ruby cabachon eye. You may refer to Item #170151496226.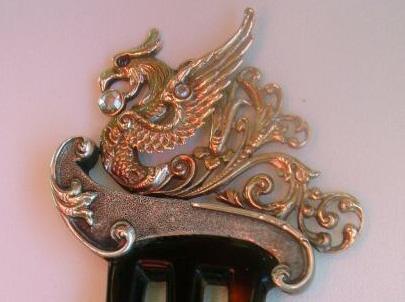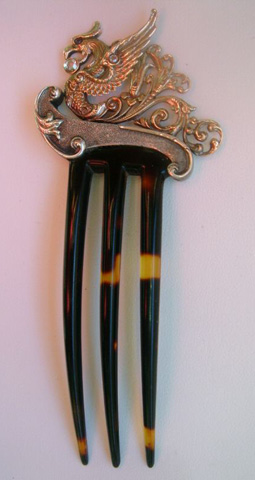 A beautiful Meiji silver-and-gold kanzashi set depicting a bowl, vase, and spoon sold for $465 on Sept. 26. Only one is pictured here so you can see the closeup. You may refer to Item #300153292268.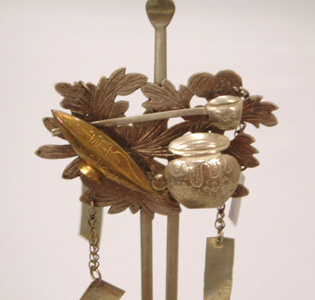 This Victorian garnet tiara hinged on a tortoiseshell comb just sold for $308 on Sept 24. Excellent price for such a lovely star-laden tiara design.You may refer to item #170150463040.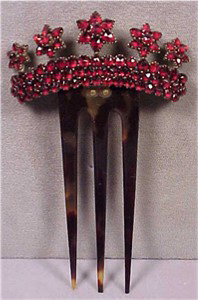 This beautiful Edo kogai stick sold for $660 on Sept 17. It is made of tortoiseshell and decorated with apricot flowers. If you look at the closeup, you can see that little bell flower with the pistels. These painted flowers have the same design as the carved flowers on both shell kanzashi, and the bakelite kanzashi from those Japanese wedding sets they made in the 1940s. You may refer to item #110168679851.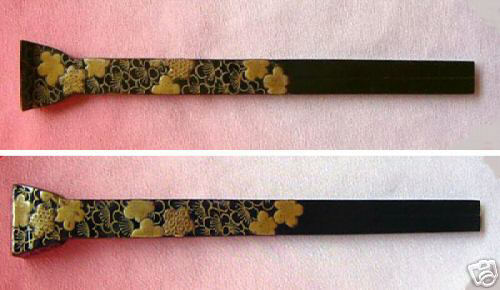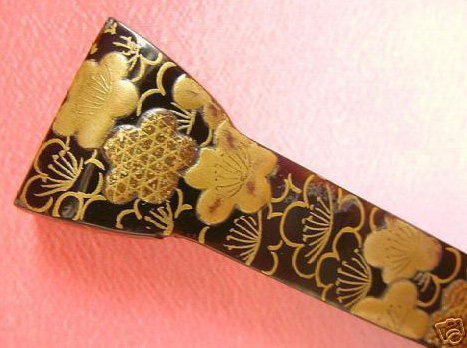 This ivory Edo kogai stick with gold maki-e paint and inlaid jade and coral sold for $300 on Sept. 17. You may refer to Item #330164680560.





This lovely carved shell floral design on a Meiji set went for $152 on August 30. The stick in between the kogai pieces is wood. There are bug bites on the shell kushi, and that brings the price down considerably. In perfect condition, this would have gone much higher, but I thought $152 was an excellent price for this.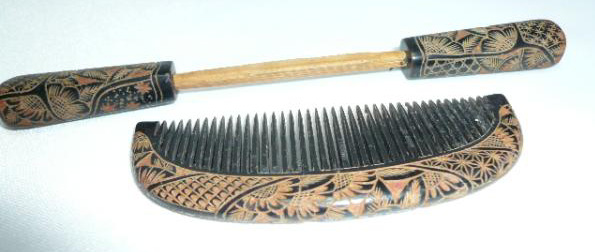 This is a gorgeous piece. The Meiji tortoiseshell kushi depicts waves and is inlaid with pearl. Excellent Condition. It sold for $646 on Sept 22. You may refer to Item #300151918225.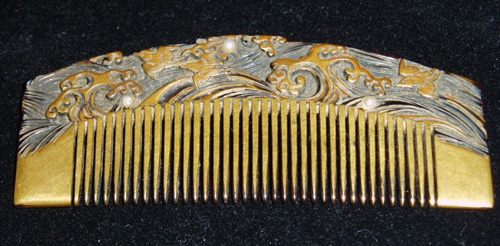 And finally, for today :-), this beautiful Victorian ivory comb sold for $355 (I lost, sadly) on Sept 21. You may refer to Item #290161590846.