This beautiful ivory comb belonged to the seller's great grandmother, and it was kept in perfect condition all these years. Imagine the love that kept this beautiful piece in its pristine state. The style looks like a Chinese import to the Victorian market to me but I'm not sure. Maybe it's European made. Comments welcome. I loved it. It sold for $213.50 to Belva, one of the greatest hair comb collectors and historians in the country. Congrats, my dear friend.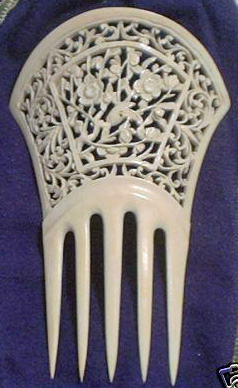 This ivory comb knocked me out. I'd say c. 1880. The rose carvings are exquisite. I adored this one, too. I have to say I am not sure if it's English made or Chinese made for the Victorian market. But fabulous, nonetheless. It sold for $280 on August 9.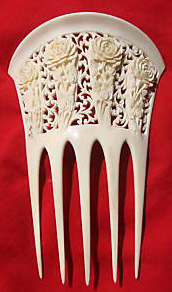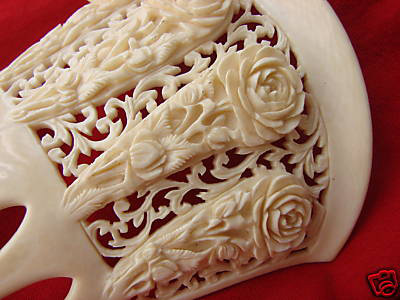 The last comb that caught my eye was an Silver Edo comb with a remarkable decoration of birds on the sides and a turtle in the middle against a backdrop of flowing waves. The silver decorative shell fit over a tortoiseshell comb, which was not in perfect condition, as the tines were a little damaged. But this was a drop-dead piece for Japanese comb collectors. It sold for $301 on August 10 to Belva. Congratulations again for your taste and everything you've done to bring the beauty of hair combs to the world via the ACCCI.