Best known for its British Arts and Crafts and Art Nouveau jewelry, this firm opened in 1880, producing neo-Renaissance pieces. From 1891 – 1916, the imaginative, bright enamel work on their peacock, wing, and insect designs won them Royal patronage. In 1916, the firm closed.
This piece, which is signed, might be part of their earlier work. Hinged to a tortoiseshell comb, the silver tiara is laced with garnets. What I love about it though is the hat on top with its ribbons flowing through silverwork. It sold at Sotheby's for 1350 UKP.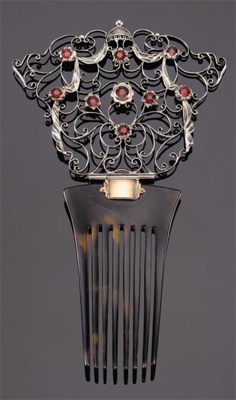 However, when Child & Child's artistry became revolutionary, one of their most famous pieces was a tiara of two bright blue enamel peacock wings, which sold at the Tadema Gallery in London. I know the price range was over 20,000 UKP, but I cannot imagine the exact, final price.