We are beauty hunters. Some lovely things have sold on E-bay at good prices, while other nice pieces are still for sale.
This emerald, pearl, and diamond Victorian parure was sent in by one of our community's subscribers. I was so pleased to hear from her. Thank you! If another subscriber finds something delicious, you are more than welcome to send me a picture at barbaraanneconsulting@gmail.com.
This parure comes from Austria, c. 1870, with hallmarks. It is made from 14K gold, sterling silver, faceted and cabachon emeralds, rose-cut diamonds, and pearls. The emeralds are mostly light green, however, the two cabachons at the bottom of the necklace have the beautiful deep-green color you want to see. The set comes in its original box. Price: $29,500.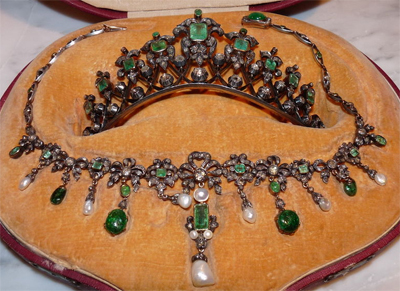 This beautiful metal kanzashi from The Miriam Slater Collection has many meanings. The bent wire represents water. The crane signifies honor and loyalty. A silver rock anchors a floral bouquet. I will guess that the cuts in the circular pieces of dangling metal are a family crest. It is on sale for $225, a nice price for a rare, elaborate piece.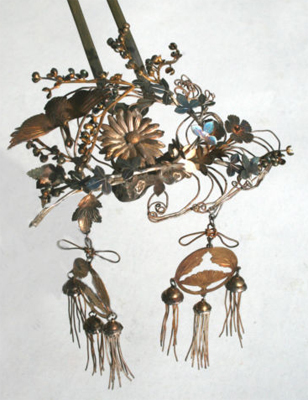 This 19th-Century Indian ivory comb was mislabled "Antique Victorian Ornately Carved Ox Bone Double Comb." The Creative Museum has one. Whoever got this, even with the broken piece on the top left, for $63.91 did very well.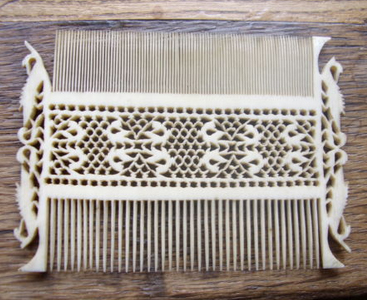 French Art Nouveau innovators like Louis Aucoc, who employed Rene Lalique, ornamented clarified horn with pearls to create jewelry that mirrored the natural world. He had many followers, among them Lucien Galliard. This art nouveau horn comb is beautifully translucent, with scrolling on the edges. Its three asymmetrical pearls are just enough, but not too much — a stunning piece. Unsigned, it sold for $639.07.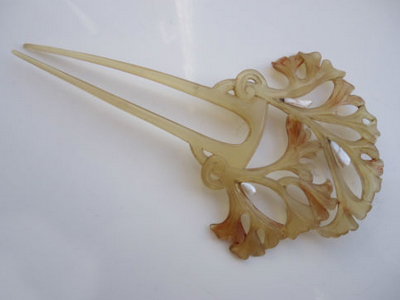 This real tortoiseshell, gold, and pearl art nouveau back comb is a classic beauty in excellent condition. It sold for $219.30.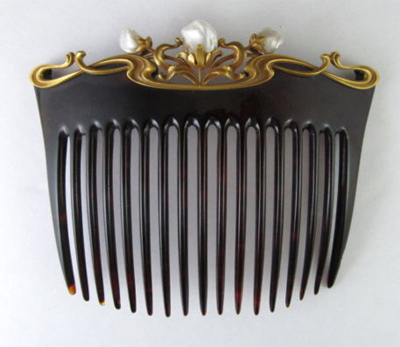 Lastly, a dealer misidentified this silver comb as a "Spanish Mantilla Bird." Well, first, a mantilla is a veil. The peineta that holds up the mantilla is much larger, and the comb is American. The hallmark indicates that it was made by Knowles & Ladd of Providence, Rhode Island, c. 1870. I do love the bird though. It sold for $145.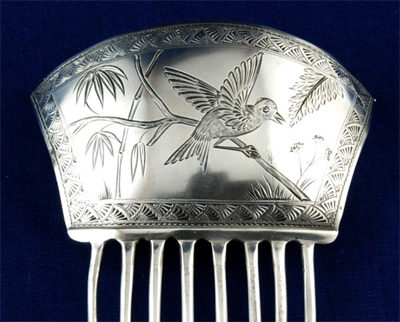 कंघी
For more research on comb identification and values, please examine these books, which can all be found in our Resource Library.