René Lalique integrated sculpture, Symbolist philosophy, Japanese ideas, and new materials to reign as the genius of Art Nouveau design. He was also a keen observer of daily life. How many children would place garlands Christmas trees?
In this diadem, tree branches of green enamel and small diamond flowers are decorated with a mabe pearl garland. It sold at Christie's for $112,561 on June 17, 2008.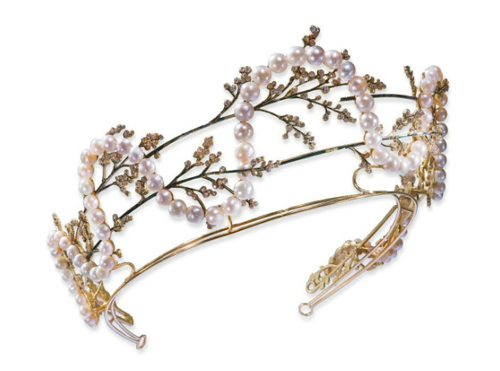 The Creative Museum is premiering a new exhibition, From Art Nouveau to Art Deco on July 21, 2012. "This exhibition provides an insight into the characteristics of Art Nouveau and Art Deco styles. An in-depth study of the influence of these two movements on hair ornaments and styles yields meaningful findings."
I hope everyone attends.
कंघी
For more scholarly research, please examine these books, which can be found in our Resource Library.